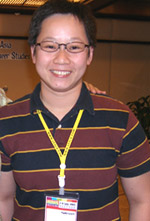 Sylvia Tan (see bibliography) was the first Singaporean journalist to write exclusively about local, as well as international, LGBT culture.
She holds a degree in communications science and worked as the principal reporter and news editor of the English section of Fridae.com, Asia's largest English-language LGBT web portal from 2000 to 2014.
She currently writes part-time for Gay Star News, an online international news source based in the UK.
Tan is also actively involved in LGBT activism, including the organising of Women's Nite events and serves on the Pink Dot steering committee.
References
Edit
Ad blocker interference detected!
Wikia is a free-to-use site that makes money from advertising. We have a modified experience for viewers using ad blockers

Wikia is not accessible if you've made further modifications. Remove the custom ad blocker rule(s) and the page will load as expected.