Stephanie 'Dogfoot' Chan lives in Singapore and has been writing poetry ever since her first gerbil died when she was 11. She has been performing since 2008, the summer she stumbled into her first poetry slam in Cafe deux Soleil, Vancouver.
In 2010, she won the Singapore Slam Championships and represented Singapore in the Indian Ocean Slam Championships on Reunion Island in December that year.
In 2012, she won the UK Farrago Slam Championships and represented the UK in the European Slam Championships in Antwerp 4 days later and came in 2nd runner up. She represented the UK in the Poetry Slam World Cup in Paris in June 2013 and got into the semifinals.
Whilst living in London from 2009-13, she co-hosted Hammer and Tongue Hackney with Sam Berkson, Adam Kammerling and Raymond Antrobus in Dalston and co-founded a night called Forget What You Heard (About Spoken Word) at Ryan's Bar in Stoke Newington which she hosted with Matt Cummins. She has took her solo spoken word show Foreigner Go Home (With Me!) (adventures, cultural learnings and straight up ridiculousness of moving to London from Singapore, via Ohio, with a few post-colonial thoughts thrown in) to the Edinburgh Free Fringe Festival in 2012 and 2013. She has also been a feature poet at the Glastonbury Festival, Small World Festival, Nozstock Festival, Southbank Centre, various squats and pub backrooms and theatres in London, and other cities around the UK, including Brighton, Bristol, Bath, Birmingham, Swindon, Cheltenham, Margate, Oxford and Aberdeen. In November 2013, she went on a tour of Germany, featuring at poetry slams in 11 cities.
Since moving back to Singapore she has gotten involved with organising and hosting a monthly spoken word night called SPEAK. at the Home Club and has become part of the all-female spoken word troupe Sekaliwags. She also hosts Story Slam Singapore.
She has been on the IndigNation organising committee and a performer in ContraDiction since 2014.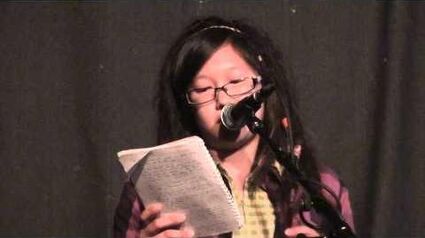 References
Edit
Acknowledgements
Edit
This article was written by Roy Tan.
Ad blocker interference detected!
Wikia is a free-to-use site that makes money from advertising. We have a modified experience for viewers using ad blockers

Wikia is not accessible if you've made further modifications. Remove the custom ad blocker rule(s) and the page will load as expected.