The Singapore Gay News List (SiGNeL)[1] is a Yahoo! Groups news list started on 15 March 1997 by pioneering gay activist and socio-political analyst Alex Au on behalf of People Like Us.
The date of its founding, the Ides of March, has a cryptic coincidental symbolism with the slaying of Caesar.
Its subscribership grew to over 2000 by the mid-2000s and it represented the main platform for intellectual discussion of LGBT issues in Singapore. SiGNeL postings have been archived in Yahoo! Groups since 1999.
It has been dormant since the mid-2010s.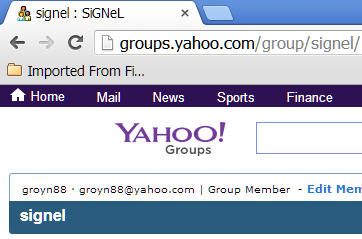 References
Edit
SiGNeL on Yahoo! Groups:[2]
Acknowledgements
Edit
This article was written by Roy Tan.