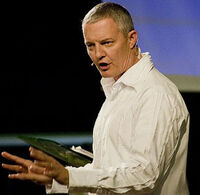 Sinclair Rogers (also spelt Synclair Rogers and better known as Sy Rogers) is a charismatic American ex-gay Christian pastor with a dramatic story of success in changing his sexual orientation, and twice for his gender identity. He has shared his experience of it on six continents in numerous publications, media interviews, talks and sermons.
He is also an international motivational and inspirational conference speaker and lecturer. His unique life and three decades of ministry have inspired and encouraged audiences from London's Royal Albert Hall to many of the world's most influential pulpits.
In the United States, he has hosted award-winning TV and radio programmes specifically dealing with conversion therapy.
Regarded as a gifted and award-winning communicator, and pastoral care specialist, Rogers is a leading Christian voice on the subjects of sexuality, cultural themes and God's character.
Rogers has served as President of Exodus International, North America, the worldwide network of Christian agencies with an outreach to LGBT people. Rogers has also been selected as one of the Outstanding Young Men of America, as well as Who's Who in Human Services Professionals.
Citing emotional growth that enabled a new sense of gender security, Rogers eventually married (Karen) in 1982. They have one daughter. He is now a father, a father-in-law and a grandfather twice over (as of 2016).
Rogers founded the ex-gay ministry Choices at the Church of Our Saviour (COOS) in Singapore in 1991 and served as one of its pastoral staff. He resided in Singapore for over a decade before returning to the USA.

Early life
Edit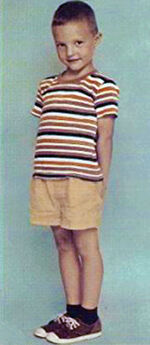 Rogers described the first half of his life as an "emotional concentration camp"[1]. His alcoholic mother was killed in a car crash when he was four. Prior to that, he was sexually molested by a family friend. After his mother's death, he was separated from his father for a year and lived in an emotional vacuum. His identity and security as a male was left unaffirmed and unnourished. Later in school, he was routinely ridiculed, rejected and physically abused due to his effeminate mannerisms. Even though he tried to "conform to the norm", he was continually labelled a homosexual and a failure as a man. It therefore came as no surprise that he had problems.
As a teenager, Rogers had yet to identify as homosexual. Nevertheless, he was certainly aware of his attraction to the same sex and he felt fear and shame. A few years later, when he eventually immersed himself in the gay scene, he felt a great sense of relief. He was accepted and understood at last. He finally had a place to belong. It was great for a while. Soon he was living in the fast lane, always surrounding himself with others who would reaffirm and reinforce his gay life. While living in Hawaii, his two gay roommates became husband and husband in that state's first non-official male gay wedding in a pro-gay church. He was their best man. However, they would later become the first to tell him that overcoming homosexuality was possible and they had begun the effort themselves. They said God was helping them, and that they were praying for him. Rogers laughed in contempt, thinking they were some kind of traitors.
Transgender phase
Edit
Rogers' own journey out of the gay life first began with his attempt at securing male love by becoming a woman through sex reassignment surgery. Though he did not get around to ever having the operation, he was on hormone therapy and lived as a woman for about a year and a half. Yet, even then he realised that surgery could not really solve his problems and would not obtain love for him.
Yielding to God
Edit
Grasping the fact that he had not managed his life very well on his own, he finally began sincerely seeking after God. It was his reignited faith in religion that led him down a new path he once thought impossible for him. It was not that he was trying to stop being gay. He did not know how to, or if it was even possible. He was willing to stop living life on his terms, though. He yielded to God on His terms instead. That was in January 1980.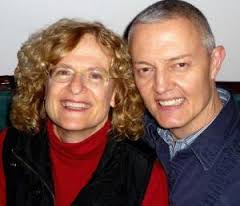 At the time, his gay friends thought he was crazy. They said he would be back in the bars within a week, a month or a year. He never went back. But it was not easy. He did have a lot of struggles in the beginning, but like most worthwhile endeavours, perseverance paid off.
Today he very much savours the opportunity to live beyond his past problems. He has enjoyed being a husband since l982, a father and a grandfather. It is not proof that he is not gay, but it is evidence of a life he never thought possible. His recovery process took time and work and the encouragement and accountability of his supportive friends.
More importantly, his recovery depended on his willingness to cooperate with God. Over the years and around the globe, everyone that he personally knew, or knew of, that had overcome homosexuality had been enabled to do so as a direct consequence of a life yielded to God and committed to the way of Christ. Though he would never live his life as if he had never been homosexual, he was able to live beyond having been gay. And he was not unique. There were many thousands of ex-homosexuals, though most were not public about it. He had met many in Singapore, and in Asia...in fact, around the world.

Middle-aged years
Edit
Rogers first gained recognition in the mid 1980's, at the crossroads of several social developments in the U.S., including the charismatic movement in church culture, emerging gay rights and the AIDS crisis. Rogers' inspiring story and pastoral work pointed to a compassionate God who embraced the marginalised.
In the documentary One of the Boys: Sy Rogers Story, available on DVD, he stated that his goal at the time was the pursuit of God, not turning straight[2].
In a 1983 article entitled, 'Questions Gays Ask Me Most', he presented his view that "Heterosexuals don't go to Heaven, redeemed people do."
Choices ministry in Singapore
Edit
Pastor Derek Hong of the Church Of Our Saviour in Queenstown heard about Rogers and invited him to move to Singapore in the late 1980s. Rogers subsequently set up the ex-gay ministry Choices, a part of the Church Of Our Saviour, in 1991. It grew to become the headquarters and motive force of the ex-gay movement in Singapore.
The name 'Choices' was Rogers' brainchild. Clients who attended his 14-week lecture series, divided into three modules, realised its significance and pertinence when they were clearly told that regardless of the situation that led them to be gay, they could still, at any time, make a choice to say 'No' to it[3]. It was also Rogers who came up with the cliché, "'Freedom is when you are able to say 'No'".
He also had regular speaking engagements at City Harvest Church. Because of his background and experience at Choices, and with the Government's blessing, he became the de facto authority on young Singaporeans' problems with their sexuality (see Archive of "Straight talk about homosexuality" in "TEENS" magazine, 1994). He was once invited to be a panel member in a televised forum on Channel 5 which discussed homosexuality and HIV in Singapore.
One of Rogers' most famous protégés who attended his ex-gay programme at Choices was Leslie Lung, who became an ex-transgender and later founded Liberty League, a non-profit group which aimed to promote "healthy gender identity", a specious euphemism for ex-gay ideology.
Rogers resided for over a decade in Singapore before returning to the United States.
Singapore's LGBT community generally resented the anti-gay and anti-transgender messages that he propounded with evangelical zeal during his stay in the republic.
Late middle-aged years
Edit
In 2016, The Daily Beast reported that Rogers' current ministry moved away from the ex-gay focus many years ago, and though he has not stated it publicly, pastor Brian Houston of Hillsong Church informed a blogger that Rogers probably regretted his involvement with Exodus International. Rogers cited that he countered pray-the-gay-away expectations in some church cultures with pastoral advocacy and universal Christian discipleship goals, emphasising responsible conduct combined with ongoing engagement with God. Rogers' enduring popularity derives from his vulnerability and versatility as a communicator of inspirational and life skills subjects.
References
Edit
Sinclair Rogers, "Questions I'm Asked Most about Homosexuality", Christian Resources about Homosexuality and AIDS, freeministry.org[4].
Sinclair Rogers' website, "Sy Rogers Communications":[5].
Acknowledgements
Edit
This article was written by Roy Tan.