It is perhaps premature to talk about same-sex marriage in Singapore when, at a more basic level, Section 377A of the Penal Code still criminalises sex between men.
However, the fact that male homosexual sex remains a crime has not prevented gay Singaporeans from forging stable long-term relationships and from living together as couples.
Overseas civil unions
Edit
Many Singaporean gay couples have gone overseas to register civil unions there or even get married to their partners in countries like Canada and some states in the USA where gay marriage has been legalised (see video:[1]).
Others celebrate their loving relationships via videos posted on YouTube.
Gay wedding ceremonies
Edit
Even though gay marriage is not yet legal, holding gay weddings are perfectly legitimate in Singapore, unlike the case with Vietnam where it was illegal until as recent as 2014. However, the "marriages" that the wedding ceremonies or dinners celebrate cannot be registered with the Registry of Marriages and are therefore not legally recognised.
There is much less discrimination against lesbian relationships, especially after lesbian sex was decriminalised during the Penal Code review in 2007 when the former Section 377, which criminalised "carnal intercourse against the order of nature" (theoretically including penetrative lesbian sex) was repealed.
Therefore, if there is a push by LGBT activists to legalise gay marriage in Singapore, it will be spearheaded by lesbian couples serving as role models as there is much less mainstream resistance against their relationships.
IPS survey
Edit
The results of a survey conducted by the Institute of Policy Studies (IPS) and published in early 2014 showed that although "78.2% (of respondents) felt ...sexual relations between two adults of the same sex (was always or almost always wrong)", "When it came to adoption of a child by a gay couple, respondents who found it always or almost always wrong fell to 61.1%, 72.9% found gay marriage always or in certain cases wrong, and 15.7% thought it was not."[2] That is, fewer Singaporeans found gay marriage and child adoption wrong as compared to gay sex.
Media censorship
Edit
A 1,700 word Valentine's Day feature article entitled "Singapore's art power couples on the secrets to their success" published by Today newspaper on Friday, 12 February 2016, mentioned 4 heterosexual couples who worked alongside each other in performance and visual arts in the opening paragraphs and featured interviews with 3 other straight couples in the arts scene in Singapore.
However, it conspicuously omitted the gay, married, celebrity couple of Ivan Heng, a Cultural Medallion winner (Singapore's highest accolade for artists), and Tony Trickett who run Wild Rice, one of Singapore's most active and high profile theatre companies. Heng and Trickett are the founding artistic director and executive director respectively.
In a Facebook post, Heng wrote on Saturday, 13 February 2016 that they had agreed to be part of the feature and was interviewed by journalist Mayo Martin.
'We've been informed that the section featuring me and Tony was pulled at the last minute by the higher editors because "it didn't fit with the rest of the profiles throughout the couples series of stories." We note that we were not even mentioned in the list of couples running theatre companies in the opening paragraphs.'
Heng, who married his partner of 18 years in the UK in 2014, asked, 'What could this mean? Would the higher editors care to identify themselves and explain their decision?'
Heng and Trickett's marriage was reported by The Straits Times in August 2014.
First positive media report of Singaporean gay marriage
Edit
The first Singaporean gay marriage which was reported positively and given detailed coverage in the mainstream media was that of actor-singer Caleb Goh and his partner who declined to be named for the Yahoo! News article[3]. They got hitched on 16 December 2018 in the historic Presidio Park in San Diego, California.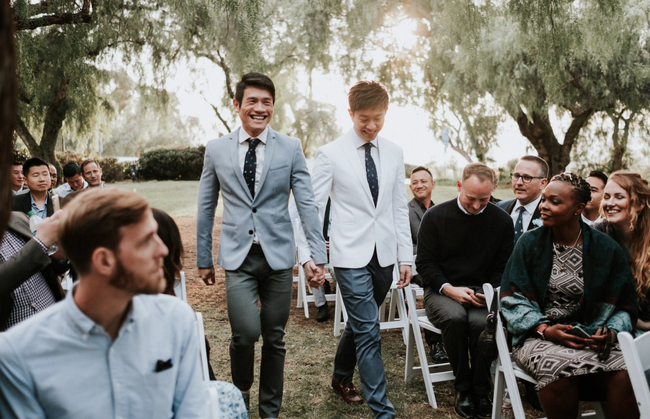 References
Edit
"Singaporeans still conservative about certain social issues, says IPS survey", Channel News Asia, January 2014[4].
Reena Devi, "I saw him among my audience: Actor-singer Caleb Goh on how he met his husband", Yahoo! News, 8 March 2018[5].
Sylvia Tan, "Singapore newspaper called out for omitting gay power couple in Valentine's Day feature", Gay Star News, 14 February 2016[6].
Acknowledgements
Edit
This article was written by Roy Tan.