Dr. Russell Heng Hiang Khng is a Singaporean academic, playwright, psychologist and former Straits Times journalist. He holds a PhD in political science from the Australian National University and was a researcher at the Institute of Southeast Asian Studies (ISEAS) until his retirement in 2007. Prior to his academic career at ISEAS, Heng was Features Editor of The Sunday Times in the Singapore Press Holdings group[1]. The most senior of all the pioneering gay activists, Heng was the first local academic to write research papers on homosexuality in Singapore and also one of the founding members of the LGBT equality advocacy group, People Like Us.
Heng joined TWC2 soon after it was formed in 2003. He has since held the position of Secretary and Treasurer and was President for four years (two terms) 2011 – 2015.
https://www.youtube.com/watch?v=ZoD4YfiigBc
https://www.youtube.com/watch?v=R52_7qCbNaE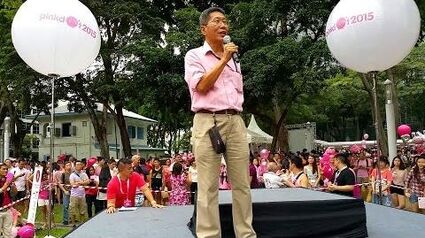 References
Edit
Sylvia Tan, "Russell Heng", Fridae, 16 August 2005[2].
Koh Boon Pin, "In the Living Room: Koh Boon Pin chats with Russell Heng and Desmond Sim", Centre 42, 10 April 2015[4].
Acknowledgements
Edit
This article was written by Roy Tan.
Ad blocker interference detected!
Wikia is a free-to-use site that makes money from advertising. We have a modified experience for viewers using ad blockers

Wikia is not accessible if you've made further modifications. Remove the custom ad blocker rule(s) and the page will load as expected.