The NLB saga (sardonically nicknamed Penguingate) was the sequence of events in July 2014 starting from a complaint about gay-friendly children's books in the National Library, including one about a pair of penguins who raise a chick together, which led to their removal and "pulping", and the public reaction and heated debate that ensued.
Teo Kai Loon, the initiator
Edit
On Monday, 7 July 2014, Teo Kai Loon, a member of the group "We are against Pink Dot in Singapore" posted an update on its Facebook page informing readers that he had sent an email to the National Library Board (NLB) demanding the removal of the following LGBT-friendly children's books from its children's collection:
1) And Tango Makes Three, about two male penguins who pair up and raise a chick from an egg together.
2) White Swan Express, about North American couples trying to adopt baby girls from China.
The NLB complied and the books were removed from circulation. The NLB further affirmed its "pro-family" stand with regard to the books it added to and removed from the collection.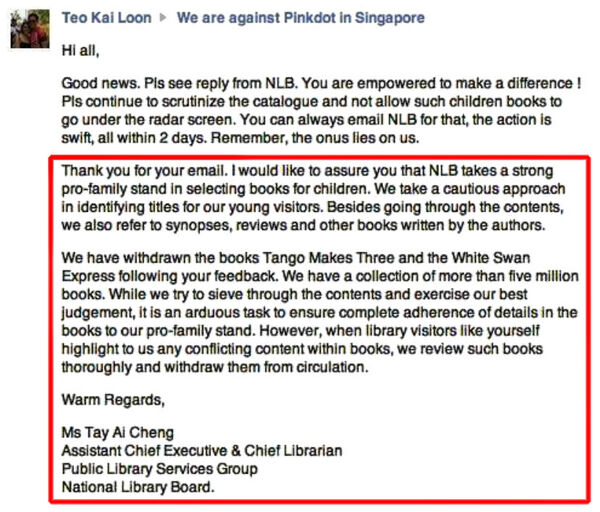 Public reaction
Edit
Upon learning that the National Library Board had removed the two children's titles from its shelves following Teo's email complaints that they were not "pro-family", netizens immediately pushed back on Monday, 7 July 2014 itself. At least two petitions calling on the NLB to reinstate the titles made their rounds online[1].
The NLB's actions led some to question the kind of message being sent out. Assoc. Prof. Paulin Straughan, sociologist at the National University of Singapore, said, "I think we have to be very cautious how we address this issue because the important message we have to uphold always is regardless of your sexual orientation, you are an important member of our community. And you don't want to demonise or cast a deviant label on somebody who has an alternative sexual orientation. Of course from a parent's perspective, it's a very difficult stance to take. When we are socialising our children, we would want them to stay within the norms and values the family prescribes to... So that's where we have to be mindful, that primarily, that is the responsibility of the family."

She added that while some parents may prefer that the state's norms are in line with the message they want to send to their children, it's a no-win situation. "You demonise homosexuality, you end up demonising real people who are in your community. And I think given that scenario, it's important for us to remain inclusive, especially when it comes to sending messages to young children," she said.
Those that opposed the NLB's decision said the books were a good way to broach sensitive subjects with children, as well as provide them with different perspectives. Sociologists said it was a good opportunity for parents to step in to set the context so their children did not grow up with prejudices. Some parents said the onus was on them to help their kids understand issues better. One of the parents quipped, "Just pulling it off the shelves is not the answer. If the parents can explain the books, it would help, but not every parent is equipped to explain such a difficult matter."
Assoc. Prof. Straughan opined, "I don't think any parent would really want their child to end up discriminating against another human being. But the seeds are sown when they are young, and when we teach them very straightforward kind of messaging that this is right and this is wrong, there's no in-between. And they grow up believing that's the case, I think in terms of growing an inclusive society, something goes wrong there."
When contacted, the NLB referred to its original statement issued on Tuesday, 8 July 2014 where it said that it took a pro-family and cautious approach in selecting books for children, and exercised its best judgment when it came to assessing the content of books. It added that it continually reviewed its children's collection. The NLB's statement also said, "We also refer to synopses, reviews and other books written by the authors. Parents can be assured that NLB is sensitive to their concerns and views, and their feedback."

Audio-visual version of book on YouTube
Edit
It was ironic, as is the case with most banned publications in Singapore, that the NLB's actions gave rise to intense public interest in the book which was freely available in video form on YouTube[2]:
NLB reaffirms stand
Edit
"Let's Read Together!" event organised
Edit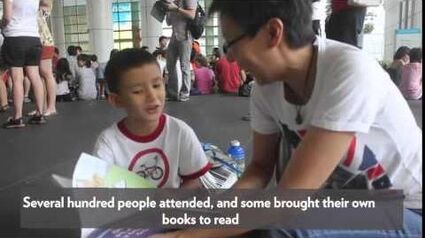 Singapore Literature Prize judges resign
Edit
Talking Point episode
Edit
"Tango", play by Joel Tan
Edit
Main article: Tango (play)
References
Edit
Pearl Lee, "National Library Board forms 19-member advisory panel to review library titles", The Straits Times, 15 April 2015[3].
Melissa Tsang, "Gay penguins, children's books, family values", "eightMILESwide" blog, 8 July 2014[4].
Acknowlegdements
Edit
This article was written by Roy Tan.