Dr. Kok Lee Peng is a senior consultant with over 4 decades (since 1972) of experience in the field of psychiatry. She was previously a psychiatrist at Woodbridge Hospital, Singapore's first and only mental hospital, then became an Associate Professor at the Department of Psychological Medicine, National University of Singapore and subsequently ran her own private practice from which she retired in 2006.
She is currently working part-time as a visiting consultant at 3 restructured hospitals and has clinical duties as well as teaching duties - she teaches trainee psychiatrists and registrars, as well as advanced practice nurses in psychiatry. She was recently a local external examiner for the Exit examination of psychiatric doctors.

Academic credentials
Edit
MBBS (Singapore) 1968
DPM (Psych) (UK) 1972
MRC Psych (UK) 1973
FAMS (Psych) 1986
MD (NUS) 1988
Fields of interest
Edit
Suicidal behaviour (both suicide and attempted suicide) - she did her MD (Doctor of Medicine) thesis on attempted suicide in Singapore by drug overdose, wrote several papers on suicide in Singapore and edited a book on Suicidal Behaviour in the Asia Pacific Region.
Forensic Psychiatry - she co-authored 2 books on different aspects of psychiatry and the law.
Transgender psychiatry - a peripheral interest during her early days in academia under her mentor, Prof. Tsoi Wing Foo.
Various psychological therapies - her current pet interests, e.g. hypnotherapy and therapy for post traumatic stress disorders (PTSD) and complex traumas.
Appointments
Edit
Visiting Consultant, General Psychiatry, Institute of Mental Health, 2016
Honorary Secretary, Inaugural Meeting of the Chapter of Psychiatrists and Chapter of Pathologists, Academy of Medicine held at King's Hotel on 5 December 1986
Chairman, Chapter of Psychiatrists and Chapter of Pathologists, Academy of Medicine, 1991-1995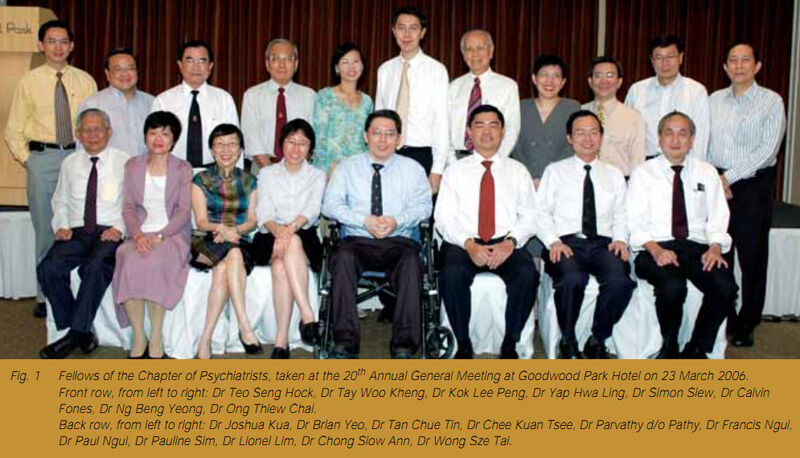 References
Edit
Panellists/Presenters, SAC Counselling Symposium 2015, Singapore Association for Counselling, 2015[1].
Acknowledgements
Edit
This article was compiled by Roy Tan.