Ho Ching (何晶, Hé Jīng) (born 27 March 1953) is the Chief Executive Officer of Temasek Holdings and has held the appointment since 2002. She is married to the current Prime Minister of Singapore, Lee Hsien Loong. Ho first joined Temasek Holdings as a Director in January 2002. She then became its Executive Director in May 2002 and was appointed Chief Executive Officer on 1 January 2004. As of 2016, she is listed as the 30th most powerful woman in the world by Forbes.
Ho is known to publicly share dozens of articles a day on a myriad of topics on Facebook. She sporadically shares positive articles on LGBT developments worldwide, as and when she comes across them.
The following are examples, screen captured from her Facebook timeline:
The post which elicited the most comments from both pro- and anti-LGBT factions was the one on Pink Dot's 10th year, scheduled to be held on 21 July 2018. The incident was widely reported on alternative media websites.
Position on sexual orientation of CEOs
Edit
During an event organised by the Institute of Policy Studies in 2013, it was revealed by Prof. Tommy Koh that Ho told him that the sexual orientation of the successor to Singtel's CEO Lee Hsien Yang did not matter[1].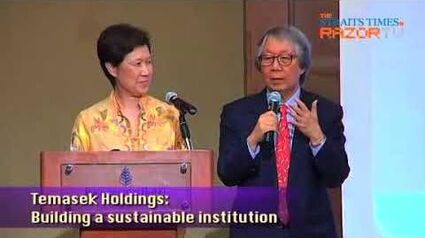 References
Edit
Acknowledgements
Edit
This article was written by Roy Tan.