According to the Bugis gender system, a calabai is a 'false woman'. Therefore, these people are generally assigned male at birth but take on the role of a heterosexual female. The fashions and gender expression of calabai individuals are distinctly feminine, but do not match that of the "typical" cisgender woman.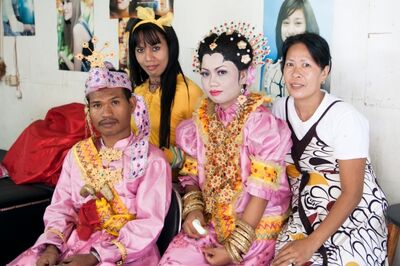 Calabai are anatomical males who, in many respects, adhere to the expectations of women. However, calabai do not consider themselves women and are not considered as women. Nor do they wish to become women, either by accepting restrictions placed on women such as not going out alone at night, or by recreating their body through surgery. However, whereas calalai, who are anatomical females but who take on and conform to many of the norms, roles and functions expected of men, calabai have created a specific role for themselves in Bugis society.
If there is to be a wedding in Bugis society, more often than not calabai will be involved in the organization. When a wedding date has been agreed upon, the family will approach a calabai and negotiate a wedding plan. The calabai will be responsible for many things: setting up and decorating the tent, arranging the bridal chairs, bridal gown, costumes for the groom and the entire wedding party (numbering up to twenty-five), makeup for all those involved, and all the food. Rarely does a village wedding have less than a thousand guests. On the day, some calabai remain in the kitchen preparing food while others form part of the reception, showing guests to their seats.

References
Edit
Sharyn Graham, "Sulawesi's fifth gender", Inside Indonesia, April to June 2001[1].
Acknowledgements
Edit
This article was written by Roy Tan.
Ad blocker interference detected!
Wikia is a free-to-use site that makes money from advertising. We have a modified experience for viewers using ad blockers

Wikia is not accessible if you've made further modifications. Remove the custom ad blocker rule(s) and the page will load as expected.