Screen capture of the article
Edit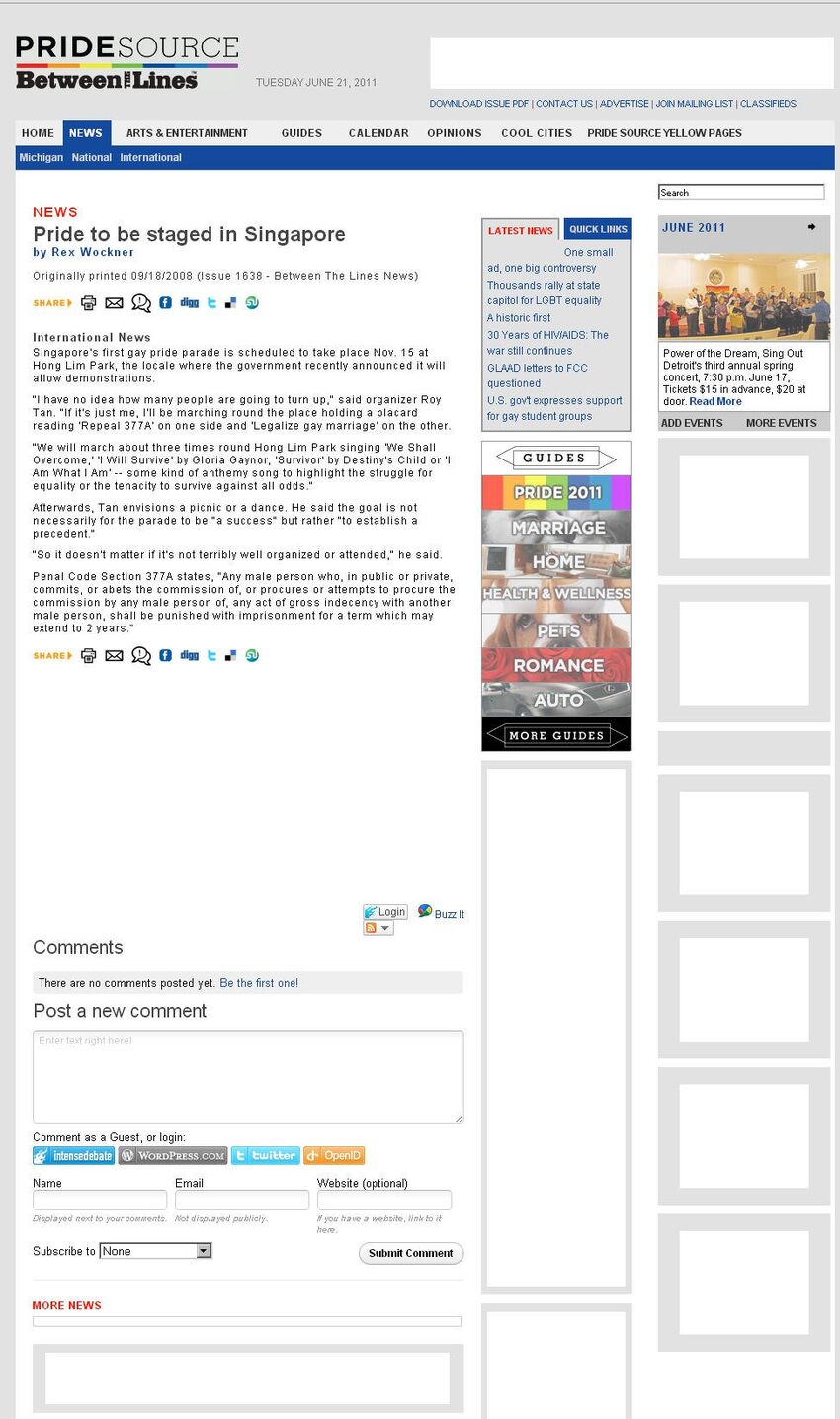 Editable text of the article
Edit
Pride to be staged in Singapore
by Rex Wockner
Originally printed 09/18/2008 (Issue 1638 – Between The Lines News)
International News
Singapore's first gay pride parade is scheduled to take place Nov. 15 at Hong Lim Park, the locale where the government recently announced it will allow demonstrations.
"I have no idea how many people are going to turn up," said organizer Roy Tan.
"If it's just me, I'll be marching round the place holding a placard reading 'Repeal 377A' on one side and 'Legalize gay marriage' on the other.
"We will march about three times round Hong Lim Park singing 'We Shall Overcome,' 'I Will Survive' by Gloria Gaynor, 'Survivor' by Destiny's Child or 'I Am What I Am' — some kind of anthemy song to highlight the struggle for equality or the tenacity to survive against all odds."
Afterwards, Tan envisions a picnic or a dance. He said the goal is not necessarily for the parade to be "a success" but rather "to establish a precedent."
"So it doesn't matter if it's not terribly well organized or attended," he said. Penal Code Section 377A states, "Any male person who, in public or private, commits, or abets the commission of, or procures or attempts to procure the commission by any male person of, any act of gross indecency with another male person, shall be punished with imprisonment for a term which may extend to 2 years."
References
Edit
Ad blocker interference detected!
Wikia is a free-to-use site that makes money from advertising. We have a modified experience for viewers using ad blockers

Wikia is not accessible if you've made further modifications. Remove the custom ad blocker rule(s) and the page will load as expected.